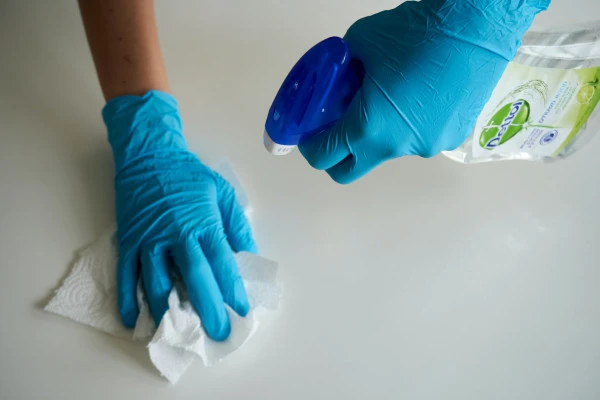 Find House Cleaners in Anchorage, AK
Get matched to top-rated pros in your area
Top House Cleaners in Anchorage, AK
Hábitat-Limpio Cleaning Services
Description:
Our company goes beyond merely cleaning; we strive to assist you in streamlining and decluttering your living and workspaces. We are a dependable, proficient, and reasonably priced business run by a m... read moreother-daughter team. read less
Recent review:
"Rapid response to my request. Accommodated my schedule. Excellent quality of work."
Reviewed by John A.
Description:
Our aim is to provide impeccable care and cleanliness to your abode, allowing you to spend quality time with your loved ones without worrying about cleaning up afterwards. Whether you require a thorou... read moregh deep cleaning, regular weekly, biweekly, or monthly maintenance, we are at your service. Get in touch with us for a complimentary quote today! read less
Recent review:
"I am extremely happy with the cleaning at my place done by Rose Cleaning. Their attention to detail and organization during the cleaning was impeccable, and now my home smells and looks fantastic! Tha... read morenk you so much for fitting me in your schedule at short notice; I am grateful and eagerly look forward to having you come on a weekly basis. read less"
Reviewed by Heather M.
How much to tip house cleaner?
The house cleaner you hire fills an important role in your life and home, making sure your house stays clean and organized. You should show your appreciation for the excellent service they provide by giving a tip. Generally speaking, it is recommended to tip house cleaners one full week's pay or ten to twenty percent of their services rate. This amount can vary depending on how large the house is and how often they come over to clean. Ultimately, if you're satisfied with the house cleaner's work, tipping is a good way to thank them for their hard work.
How much does house cleaning cost?
The average cost of house cleaning ranges from $25 to $50 per hour. However, the price can vary according to:
• The size of your home
• The number of rooms to clean
• And the specific services that are requested
What is deep cleaning house?
Deep cleaning a house is one of the ways to declutter the home quickly. A deep cleaning house is cleaning a room or a complete house in one go. You clean all the surfaces in the process, even those that you don't usually clean. Deep cleaning your home saves your time and removes the toxins accumulated in your house. You can deep clean your house every quarter, every six months, or once in a year.
How much to charge for house cleaning?
Deciding how much to charge for house cleaning services can be tricky. When setting a rate, it's important to factor in the total time, effort and other resources (e.g. supplies) required to get the job done right. Other things to consider include the size of the house, any specific tasks requested by the customer, and the general housekeeping industry rate in your area. That being said, pricing should not be so high that potential customers cannot realistically afford it nor too low that you are undervaluing your services and hard work. Setting your house cleaning rates requires careful consideration and research to ensure you come up with a fair number that works for both you and your clients.
What you need to know about house cleaning companies & services.
When considering house cleaning services, there are a few key areas to focus on. Do the services provided meet your house needs? Make sure the company is licensed and insured as this will ensure they are professional and trustworthy. Research any house cleaning companies thoroughly, ask for references if needing added assurance before making any decisions. Once hired, be sure to clearly communicate with the house cleaners. Explain exactly what it is that you want cleaned and any materials or products you want them to use. Finally, make sure you understand the payment terms before starting an agreement with a house cleaning service - signing a contract might be essential in some cases too!
How to find the best house cleaners near you.
Finding house cleaners who can do the job to your satisfaction doesn't have to be a stressful task. Start by asking around. Friends, family and neighbors may be able to recommend house cleaning services they have used in the past and are happy to suggest. Secondly, check for reviews online, such as on review sites, social media or even websites specific to house cleaners in your area. Read all of the reviews carefully, considering not only what people liked about the house cleaning service but more importantly any red flags that came up from those less satisfied with the results. Finally, feel free to speak with two or three house cleaning services directly - having an informal chat with someone is a great way of deciding which house cleaner is right for you.
What's included in a home cleaning service.
A house cleaning service provides a comprehensive approach to keeping your house spic and span. From scrubbing bathrooms, sweeping and mopping floors, wiping down surfaces, dusting furniture and fixtures all the way to doing the dishes and tidying up your bedroom, a house cleaning service will ensure you have a perfectly clean house without having to lift a finger. Other services may include changing bed linens, cleaning interior windows or other tasks specific to your needs. A house cleaning service can take away all the stress of household maintenance so that you can sit back and relax as soon as you walk through the door of your freshly cleaned house!
How it works
Instantly get matched with top-rated professionals.
Post a project or find a pro
We'll connect you with the best local businesses and freelancers near you. Just choose your service category and where you're located. Expedite the process by adding more criteria to your search.
Hire Pro
Find a Pro. Receive quotes within short period of time from local businesses and freelancers. Review their quotes and portfolios. Talk to the ones who stand out, and hire the right one for your project.
Share your experience
Leave verified reviews for great work and help promote the pros who go above and beyond.