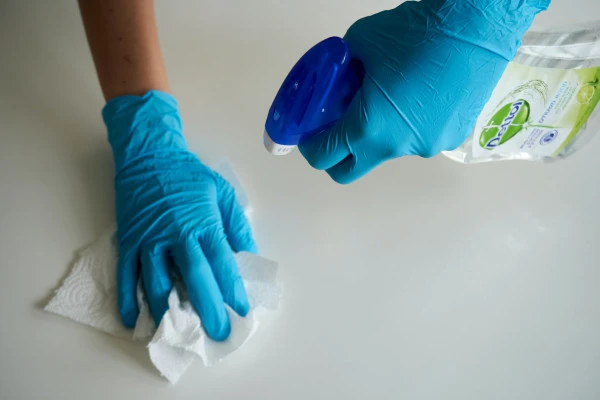 Find Cleaners in Anchorage, AK
Get matched to top-rated pros in your area
Top 3 Cleaners in Anchorage, AK
Hábitat-Limpio Cleaning Services
Description:
Our company goes beyond merely cleaning; we strive to assist you in streamlining and decluttering your living and workspaces. We are a dependable, proficient, and reasonably priced business run by a m... read moreother-daughter team. read less
Recent review:
"Rapid response to my request. Accommodated my schedule. Excellent quality of work."
Reviewed by John A.
Description:
Our aim is to provide impeccable care and cleanliness to your abode, allowing you to spend quality time with your loved ones without worrying about cleaning up afterwards. Whether you require a thorou... read moregh deep cleaning, regular weekly, biweekly, or monthly maintenance, we are at your service. Get in touch with us for a complimentary quote today! read less
Recent review:
"I am extremely happy with the cleaning at my place done by Rose Cleaning. Their attention to detail and organization during the cleaning was impeccable, and now my home smells and looks fantastic! Tha... read morenk you so much for fitting me in your schedule at short notice; I am grateful and eagerly look forward to having you come on a weekly basis. read less"
Reviewed by Heather M.
Livengood Lifestyle Cleaning LLC Alaska
Description:
For the past three years, The Livengood Lifestyle Cleaning Company has been delivering top-notch cleaning services to Anchorage, AK, and nearby places. Our excellent customer service and exceptional w... read moreork have earned us a great reputation. Our aim is to ease the burden of maintaining your cleaning requirements. Contact us today to schedule any of our services. We can't wait to collaborate with you! read less
Recent review:
"The work done is truly impressive as the place appears tidier compared to when I first rented it."
Reviewed by Christopher C.
How much does it cost to have roof cleaned?
The cost of roof cleaning varies from $100 to $1500, depending on the type of roof. Generally, the price may vary from $100-$200 on a flat roof, $300-$500 on shingles, and $1500 on a slate roof.
How much does window cleaning cost?
Window cleaning is an important task to maintain the cleanliness of your living space, and depending on the size, type and number of windows you need to be cleaned can affect how much you pay for this service. Window cleaning services cost vary from one place to another, largely determined by the level of services you opt for and other personal factors like location. Window cleaning generally costs anywhere between $5-$30 per window; however, prices can go up depending on the quality of the job needed. Window cleaners may charge an hourly rate ranging from $10-$50 or they may quote a price based on your particular job requirements. It pays to do some research and shopping around to get the best deal.
How much is upholstery cleaning?
Upholstery cleaning often costs more than regular upholstery maintenance like vacuuming, but it's still a worth-while investment. Upholstery cleaning services can completely refresh upholstered pieces and make them look new again. The cost of upholstery cleaning depends on the condition of the upholstered furniture, size, fabric type and number of items being cleaned. Professional upholstery cleaners may charge hourly or based on square footage and/or fabric type, so be sure to inquire about upholstery cleaning services in advance. Regular upholstery maintenance and timely deep cleans are the best way to preserve upholstered furniture for years to come!
How much does tile and grout cleaning cost?
The cost of tile and grout cleaning can vary greatly depending on the size and condition of the tile and grout. A professional tile and grout cleaning service will be able to assess the tile and grout and recommend what is needed to restore it back to a clean, healthy state. The cost may also depend on any additional services such as sealing or polishing, which can provide long-term protection for your tile and grout. Homeowners should budget for tile and grout cleaning not only to maintain their tile's appearance but also to protect them in the long term from damage due to dirt, stains, and bacteria build-up.
Does cleaning solar panels make a difference?
Yes, you should clean solar panels to keep them in good working condition. If cleaned properly, a solar panel can last up to 20 years. Dust and debris can make solar panels less efficient than they could be, so regular cleaning is important.
How much does solar panel cleaning cost?
Solar panel cleaning cost will depend upon the area of the solar panel array and the amount of dirt and grime present. In most cases, an area of 125 feet (1/10th acre) would cost around 200 dollars. The size of the solar panels to be cleaned will be the primary factor in determining the cleaning cost.
Do solar panels need cleaning?
Solar panels are a great way to generate and supply solar energy, but in order to actually receive the most out of this clean source of power, solar panels need to be properly maintained. One such form of maintenance is solar panel cleaning. As solar panels are exposed to the elements, dirt, dust and other particles can accumulate on or around them and obstruct the sunlight that reaches them. By simply wiping down solar panels once a week or at least once a month, you can ensure that your solar panels remain efficient and effective in providing solar energy throughout their lifetime. Keep in mind however that if the soil is covered with snow, there would be no need for maintenance until all of it melts away since snow reaches its own self-cleaning after a few days or when wind blows it away.
How often should solar panels be cleaned?
It is important to keep solar panels clean in order to ensure maximum efficiency and performance. How often solar panels need to be cleaned depends on the location, climate, and how dusty or dirty the environment around it can be. Generally speaking, solar panels should be cleaned at least twice a year - once in spring and again in fall - with any additional washes as recommended by a professional solar panel cleaner depending on local condition. Regular cleaning will help solar panels stay at peak performance and extend their lifespan for years to come.
Where can i get my rugs professionally cleaned?
To get your rugs professionally cleaned, you can visit our page and your area code to find a list of professional rug cleaners in your area.
How much does it cost to get a rug cleaned?
The rug cleaning prices can vary greatly depending on the size of the rug and the area. For example, rugs that have been used in a kitchen, bathroom, or a heavily trafficked area will require more frequent cleaning. Generally, this can range from $100 to $500.
Is roof cleaning necessary?
Modern roofing material is not prone to degradation caused by fungi and bacteria. However, rainwater, bird droppings, airborne pollutants, and leafy debris may settle on the roof as it falls from the sky. The roofing material is susceptible to damage from these sediments and debris. Hence, it is necessary to clean your roof.
How much does carpet cleaning cost?
Charges for carpet cleaning services vary depending on the size of the carpet, the type of carpet, and how filthy it is. Usually, cleaners assess costs per square foot or room area. You can expect around $50 per room or $0.25 per square foot for carpet cleaning service.
How much to charge for house cleaning?
Deciding how much to charge for house cleaning services can be tricky. When setting a rate, it's important to factor in the total time, effort and other resources (e.g. supplies) required to get the job done right. Other things to consider include the size of the house, any specific tasks requested by the customer, and the general housekeeping industry rate in your area. That being said, pricing should not be so high that potential customers cannot realistically afford it nor too low that you are undervaluing your services and hard work. Setting your house cleaning rates requires careful consideration and research to ensure you come up with a fair number that works for both you and your clients.
What is deep cleaning house?
Deep cleaning a house is one of the ways to declutter the home quickly. A deep cleaning house is cleaning a room or a complete house in one go. You clean all the surfaces in the process, even those that you don't usually clean. Deep cleaning your home saves your time and removes the toxins accumulated in your house. You can deep clean your house every quarter, every six months, or once in a year.
How much does a home organizer cost?
Home organizers come in a variety of price points, making it easy to find one that fits within your budget. Depending on the type and amount of work you need done, home organization services can range from $50 per hour for basic decluttering and organizing, to more comprehensive home organization solutions starting at about $250. Home organizers may also bundle packages with discounts for larger jobs, allowing you to save money without sacrificing quality. Keep in mind that these prices are just estimates — ultimately the cost of home organizing services will depend on your specific needs and preferences.
What is a home organizer?
A home organizer is a person who helps you stay on top of home management tasks such as cleaning, tidying up, and organizing. If you're overwhelmed with home responsibilities or simply can't seem to stay organized, then having a home organizer come in and help could be the answer you've been looking for. A home organizer plans storage solutions that suit your lifestyle, maximizing space to optimize your home's efficiency and aesthetic. They also offer insight on effective organizational systems that are simple to maintain, ultimately setting you up for success both now and in the future. With the assistance of a home organizer, staying organized just got easier.
How much does gutter cleaning cost?
Gutter cleaning typically costs between $75 and $150, depending on the size of the house.
The average cost of gutter cleaning is $100. However, this price can vary depending on the size of your house, the number of stories it has, and whether there are any difficult-to-reach areas. Some companies also charge an additional fee for removing debris from the gutters.
What is commercial cleaning?
Commercial cleaning is cleaning business premises internally or externally and can involve various methods and equipment.
Commercial cleaning is often a part of a lease agreement, and it's essential to keep the business premises clean and presentable. The process of commercial cleaning can be expensive, so it's crucial to choose a reputable company that can provide a high-quality service.
How much is a commercial carpet cleaner?
Commercial carpet cleaners typically charge between $0.15 and $0.20 per square foot. However, this price can vary according to
• The size of the cleaning area
• The type of equipment
• The level of cleaning required
How much does house cleaning cost?
The average cost of house cleaning ranges from $25 to $50 per hour. However, the price can vary according to:
• The size of your home
• The number of rooms to clean
• And the specific services that are requested
How much to tip house cleaner?
The house cleaner you hire fills an important role in your life and home, making sure your house stays clean and organized. You should show your appreciation for the excellent service they provide by giving a tip. Generally speaking, it is recommended to tip house cleaners one full week's pay or ten to twenty percent of their services rate. This amount can vary depending on how large the house is and how often they come over to clean. Ultimately, if you're satisfied with the house cleaner's work, tipping is a good way to thank them for their hard work.
How it works
Instantly get matched with top-rated professionals.
Post a project or find a pro
We'll connect you with the best local businesses and freelancers near you. Just choose your service category and where you're located. Expedite the process by adding more criteria to your search.
Hire Pro
Find a Pro. Receive quotes within short period of time from local businesses and freelancers. Review their quotes and portfolios. Talk to the ones who stand out, and hire the right one for your project.
Share your experience
Leave verified reviews for great work and help promote the pros who go above and beyond.