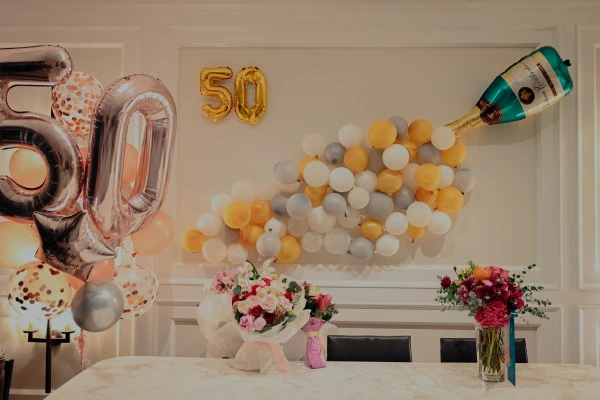 Find an Event Planner and Decorator near Anchorage, AK
Receive free quotes
Top Event Planners and Decorators near Anchorage, AK
What does a calligrapher do?
A calligrapher is someone who practices the art of calligraphy. Calligraphy is the fine art of producing beautiful lettering with a pen or brush. It helps write essential documents such as wedding invitations, certificates, and awards.
A good calligrapher has a strong understanding of letters' anatomy and mixes and applies different colors to create stunning effects. They must also have excellent penmanship and produce neat, elegant letters that look pleasing to the eye.
What do florists do?
Florists provide flower-based products and services for celebrations, funerals, and other special occasions. They may also sell potted plants, seeds, bulbs, and other gardening supplies.
Most florists do the following:
• Arrange flowers for customers
• Sell flowers and related items in a retail setting
• Design floral arrangements for special events such as weddings or funerals
• Work with clients to select the right flowers for their event or occasion
• Offer delivery services for flowers and related items
How much does a party planner cost?
The cost of a Party Planner can change depending on your zone. The average price for a Party Planner is $900 to $1000. To enlist a Party Planner to arrange your occasion, you're likely to spend between $800 and $1110.
What does a party planner do?
Party planners facilitate, organize, and execute all sorts of special occasions. They may work in various areas, dealing with all angles of weddings, birthday parties, anniversaries, or corporate social events. Party planners often liaise with suppliers and providers, but their core duties change depending on the client's work.
How much is a photo booth rental?
The best way to get accurate numbers is to contact local photo booth rental companies. Photo booth rentals often cost about $125-$200 per hour, plus a $100-200 refundable deposit. Generally, set-up fees are about $100.
How much are photo booth rentals for weddings?
The typical cost for photo booths for weddings ranges from $500 to $1100.
How much does a wedding coordinator cost?
Wedding coordinators typically cost between $650 and $1000 for a wedding.
What does a wedding coordinator do?
A wedding coordinator is a person who helps the bride and groom organize the wedding. Their duties include:
• Finding a place to have the wedding.
• Arranging the seating, hiring.
• Coordinating the staff.
• Choosing the menu.
• Ordering the flowers.
• Choosing the music.
• Buying them gifts and sending out invitations
Do I need a day of wedding coordinator?
Yes. Getting married involves a lot of details, and it is not always easy to stay on top of them. In the wedding industry, this role falls under the duties of the wedding coordinator, who is a key player in the wedding planning process. In this case, hiring a day-of coordinator is necessary.
What is a wedding coordinator?
A wedding coordinator is a professional in charge of a wedding and helps organize the decorations and activities. They are there to help the bride and groom with everything behind the scenes so that the newlywed couple can relax and enjoy the party without worrying about anything.
How much to tip wedding coordinator?
If you are going to hire a wedding coordinator, you should consider tipping about $60 to $100, depending on the quality of their job.
How much does a florist cost for a wedding?
It is quite common to spend $700 - $7000 to get a florist for your wedding. The price will depend on the size and style of the flower decorations. On average, you will spend about $500 on flowers for a small wedding.
How much to tip wedding florist?
Tipping $55 - $100 is a good range for a wedding florist.
How much does a wedding planner cost?
It depends on the wedding planner and the location. You can get a decent wedding planner for $3,000.
What does a wedding planner do?
Wedding planners help to coordinate all the aspects of the big day. They deal with wedding decoration, the venue, the catering, and everything else under the sun. They plan out the events leading up to the wedding and on the wedding day itself.
Do I need a wedding planner?
Yes, it's better to hire a wedding planner. A professional wedding planner will ensure that you have everything taken care of, nothing is forgotten, and everyone stays on time. When you hire a wedding planner, you are essentially paying for his expertise, knowledge, and experience. He will take care of all the important details and ensure that the wedding is organized and beautiful. You will have a less stressful day if you hire a wedding planner because you can ensure that everything is being taken care of.
How it works
Instantly get matched with top-rated professionals.
Post a project or find a pro
We'll connect you with the best local businesses and freelancers near you. Just choose your service category and where you're located. Expedite the process by adding more criteria to your search.
Hire Pro
Find a Pro. Receive quotes within short period of time from local businesses and freelancers. Review their quotes and portfolios. Talk to the ones who stand out, and hire the right one for your project.
Share your experience
Leave verified reviews for great work and help promote the pros who go above and beyond.